How might we better serve our youth through increased engagement with the Seattle community?
—
In 2018, I volunteered to take part in the
AIGA Changemaker Series
, which connects creative teams with local nonprofits and social change organizations. For 4 months, my team worked with
J

uma Ven

tures
, a nonprofit that provides a path forward for disconnected youth by providing part-time jobs along with programming like financial literacy and career development workshops.
As the design lead, I spearheaded design thinking and strategy facilitation and acted as art director. My team also included a project manager, a marketing strategist, a UX lead, a UX researcher, a copywriter, and a junior designer.
Overall, it was a really great opportunity to go through a human-centered design process from start to finish while also being able to contribute positive social impact to my community. Since finishing the volunteer series, I have been invited to be a member of Juma's Local Advisory Board, where I currently help with marketing and creative efforts.
You can read our case study featured on the AIGA website
here
.

Current State Assessment
Our first step was research to better understand our client and the youth they serve. We kicked off the project with a site visit of Safeco Field, where they employ many of the youth in the program.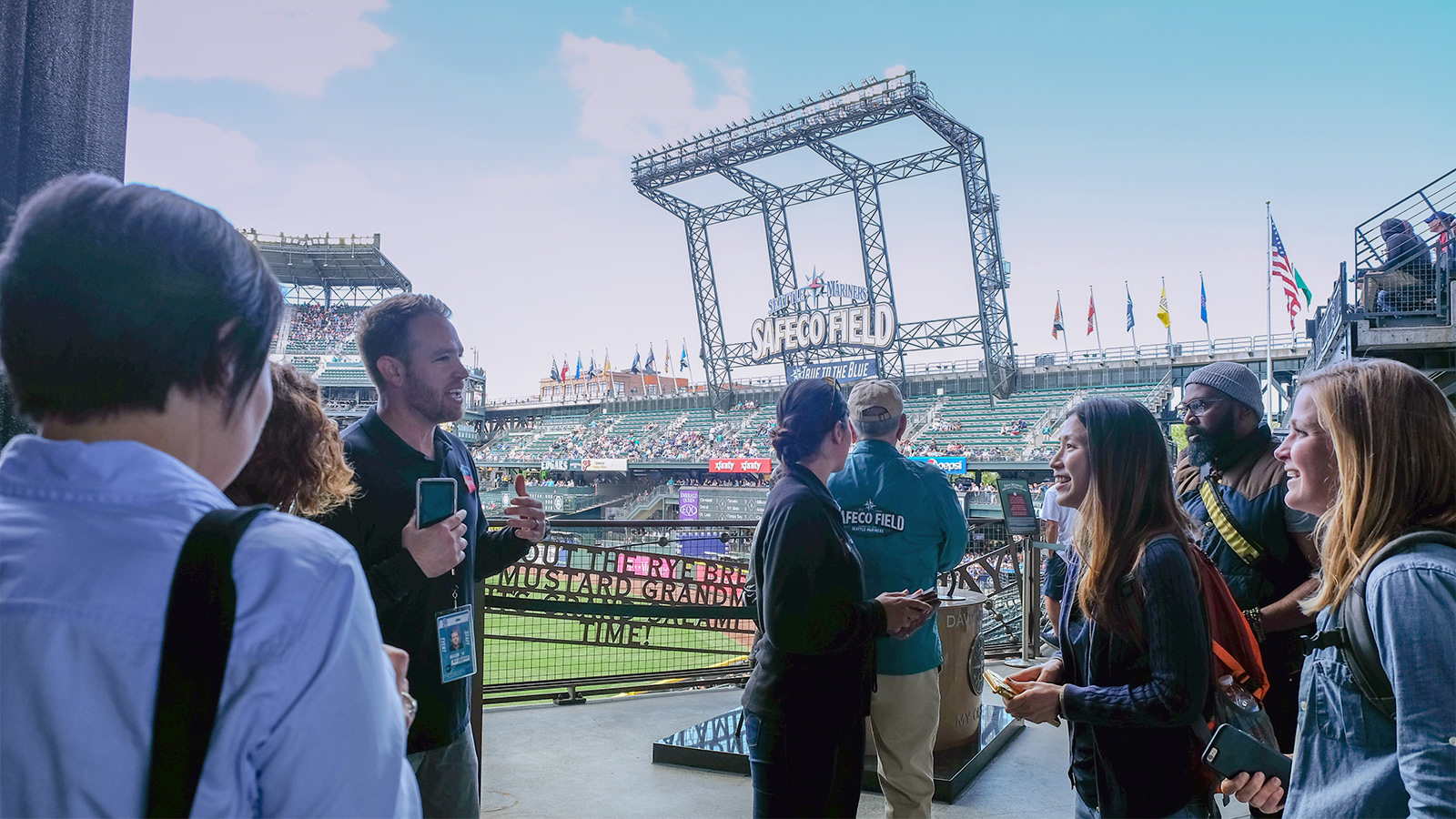 After discussing the program with the Juma staff, we created a map of what the program entails to make sure we had a clear picture of the entire process.

Empathize
We then conducted interviews with the youth themselves, as well as various stakeholders. 
The old recruitment fliers had been emphasizing a $15/hour part-time job as its headline (on the assumption that the youth wouldn't be interested otherwise) but get many applicants who don't realize it's not just a regular part-time job and involves required attendance to workshops and educational programming.
Interestingly, the youth we interviewed insisted that they would have been
more
likely rather than less likely to sign up if they had known more about the program aspects of Juma (for example, getting paid to attend financial literacy workshops) to begin with and would emphasize that if they were describing Juma to a friend.
Define
Our initial problem statement was very broad, so after doing some initial research, we decided it was a good time to refine our ask. What did they mean by engagement--the number of youth applicants, the number of active program participants, general brand awareness? After clarifying with them, we determined their primary goal was
youth recruitment
, which led us to revise our problem statement: 
How might we better engage with the Seattle community in order to reach more youth?
After diving back in with a new focus on youth recruitment, we identified some of the major pain points:
- getting too many applicants that don't fit program criteria 
- 50% drop off before making it to interview
- marketing/website targeted toward donors
- applicants not aware of programming aspects
- staffing/resource limitations 
Ideate
Armed with a map of the program, a more targeted problem statement, and a seemingly endless supply of post-it notes, we embarked on our first brainstorming session. We submitted ideas individually, grouped together similar ideas, and finally voted on our favorites. 
After our initial brainstorm, we grouped similar ideas together and ended up with around 20 distinct ideas which fit into recurring themes such as: marketing, social media, centering youth voices, workflow improvement, and alumni engagement.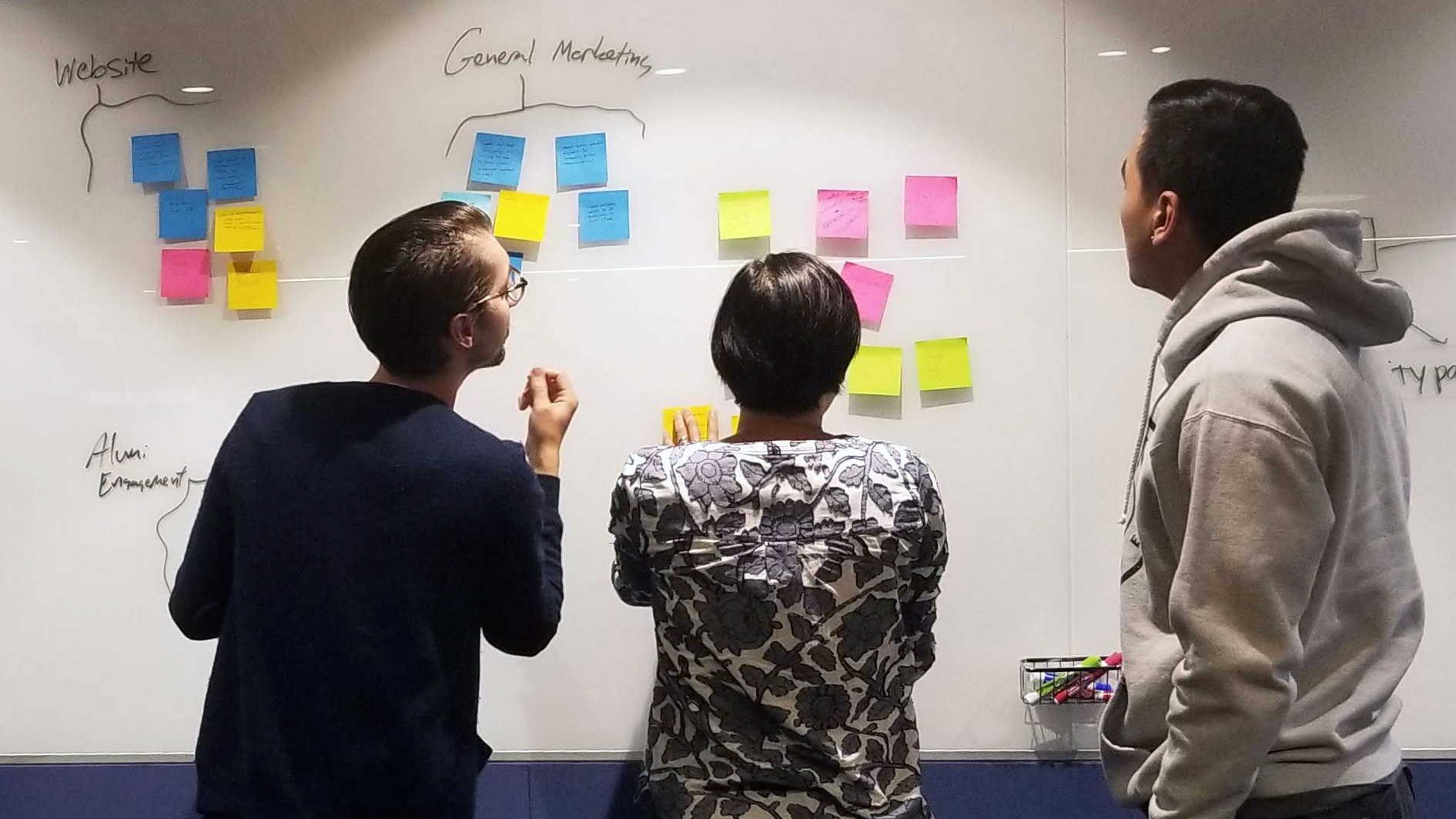 We asked two questions of our solutions: "Are we keeping youth as the focus?" and "Do we have the time, skills, and resources needed?" Keeping that in mind, we selected our top 3 ideas to develop into proposals: a marketing toolkit, a library of youth stories, and a Seattle-specific webpage to serve as a local hub.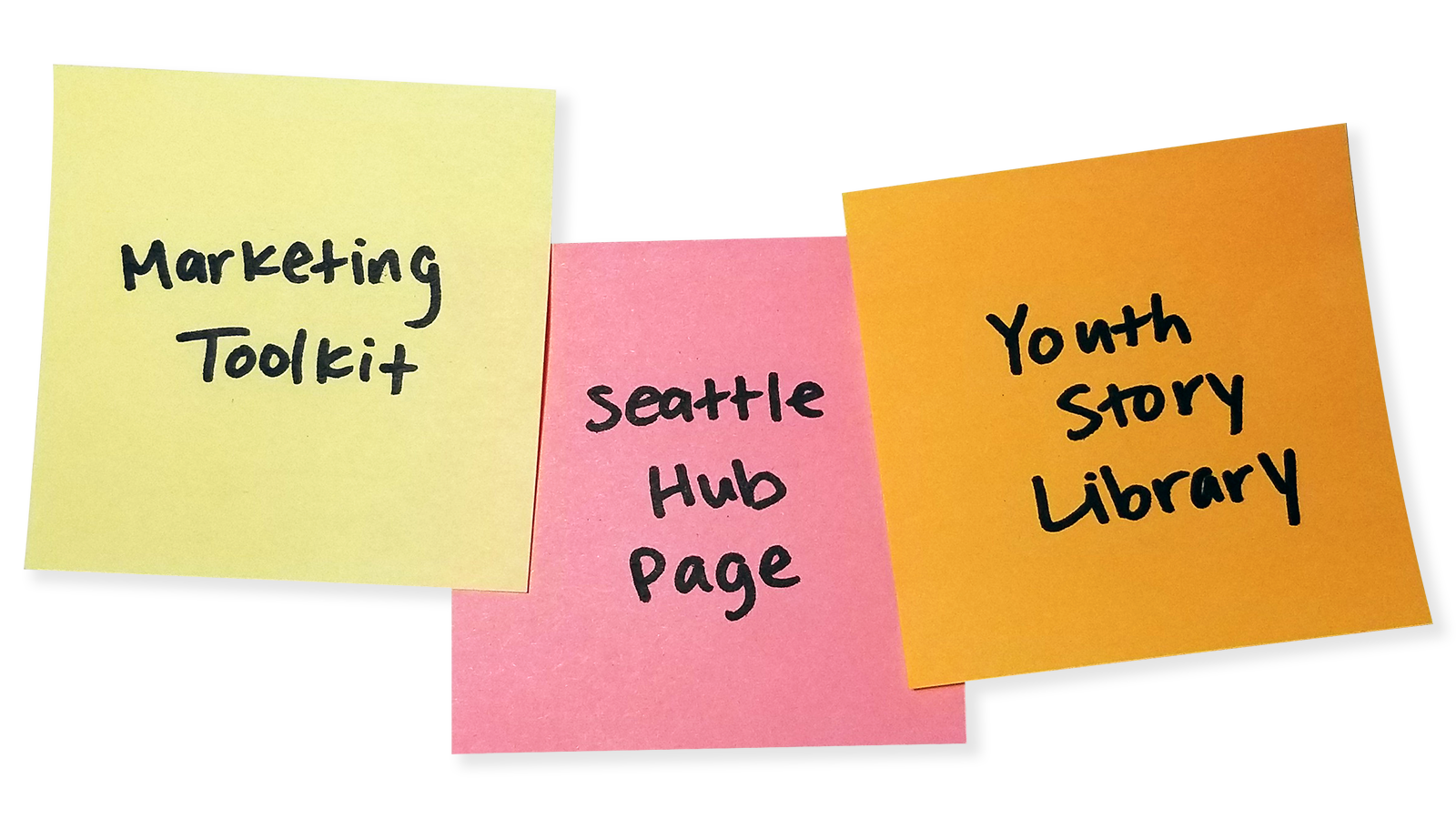 We described the deliverables, benefits, and challenged expected of each direction, along with a rating on criteria such as risk, cost, short term impact, long term impact, and resources.
After meeting with our client, we were all really excited about the hub page. It would give us the opportunity to address many issues at once and highlight our local youth and community, provide information about the program, streamline the application process. However, after meeting with a larger group including a representative from their national org, we discovered that they were working on the website and preferred us not to jump in. Together we agreed on what final deliverable would be most valuable for the client: messaging and templates for new recruitment fliers. It addressed the most immediate need for the client while providing high impact.
Test
What we ended up testing with our youth participants was our messaging. We had a number of new proposed headlines that we ran by them. It was really interesting to get their perspective on what they were drawn to or put off by. After sorting the prepared headlines, we asked them to write their own.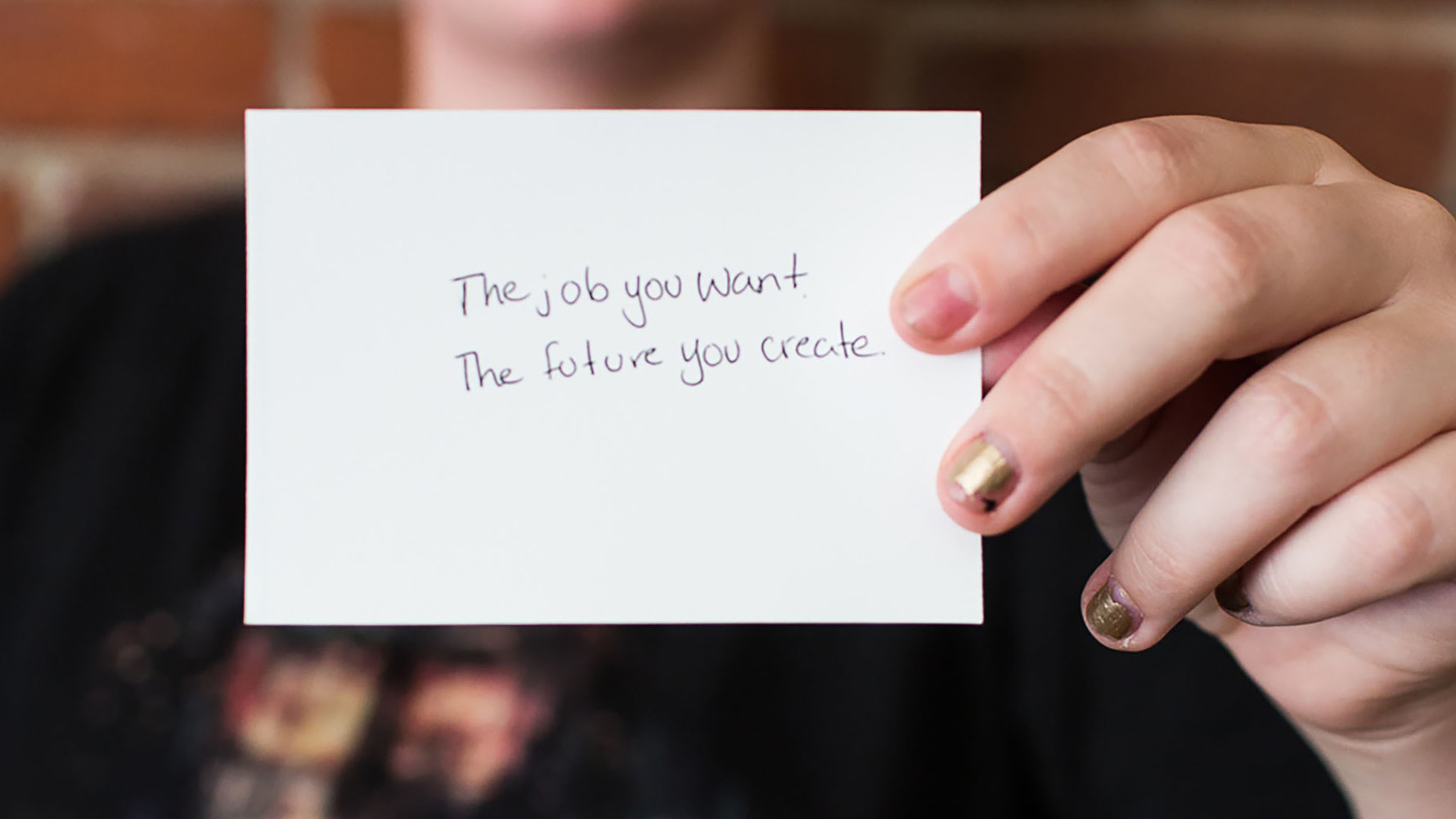 Deliver
Using one of the new headlines created by the youth themselves, we created a set of templates to be used for recruitment fliers. We kept in mind our client's constraints: the templates were created in the form of Google Slides (which is free and requires limited technical knowledge), we created a larger size option at 11x17 (large enough to function as a poster but which doesn't require any special printers), and we created smaller handout options that could be easily mass-printed in black and white.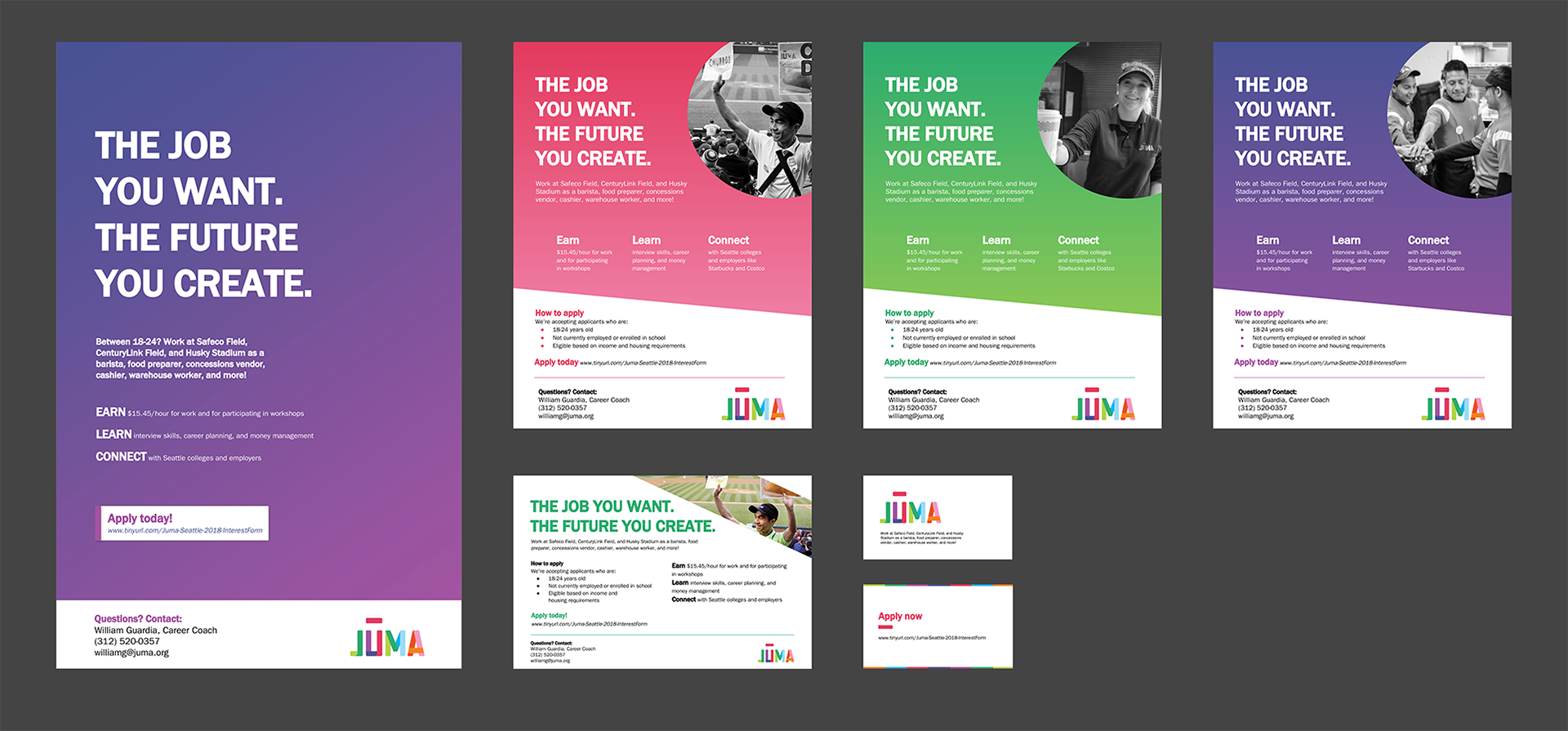 Impact
Update (July 2019)
We are now wrapping up Juma's first recruitment period using the new recruitment materials! While last year they had struggled to hit their target numbers within the six-month recruitment period, this year they were able to not only meet their goal within the time frame but have actually
exceeded their goal by 40%
. They have also seen a significant increase in the number of applicants that meet their initial criteria.